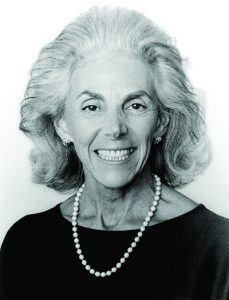 For years, a lovable dog named Howard Huge, the feisty Agatha Crumm, the original yuppie kid and a constantly squabbling couple named the Lockhorns have been mainstays of the comics sections in Sunday papers. What may be news to many readers is that the co-creator of The Lockhorns, Howard Huge, Agatha Crumm and Laugh Parade is Long Islander and Adelphi alum Bunny Hoest '53. In 2017, Hoest generously donated her entire syndicated original comic art collection to Adelphi's Archives and Special Collections, allowing students a deeper look at these iconic cartoon characters.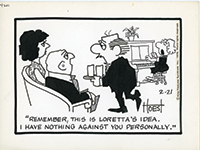 "We were attached to Adelphi and felt strongly about keeping the cartoons on Long Island, where they originated," said Hoest, who explained that other collectors and curators, such as Ohio State University and Columbia University, also approached her about housing the collection. "We decided that since Bill Hoest worked exclusively on Long Island, it was more appropriate to be here."
Now known as The Cartoon Lady, Hoest studied literature at Adelphi. It wasn't until the 1970s, while working as a teacher, that she entered the world of cartoons. She was hired by cartoonist Bill Hoest, creator of The Lockhorns, who needed help compiling his cartoons into books. The two later married and, after Bill's passing in 1988, Bunny continued the cartoon, and several others they co-created, with the help of illustrator John Reiner.
For Adelphi, the expansive collection is an opportunity for students and the college community to study a medium enriched with multiple areas, including art, history and social commentary. The most famous of the cartoons, The Lockhorns, features married couple Leroy and Loretta Lockhorn bickering and making sarcastic comments about each other's failings as spouses.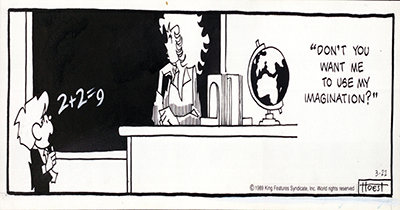 "At a university that offers students the opportunity to study the art and history of animation and cartooning, the Bunny Hoest Collection will bring a rich and unique research resource to Adelphi," said David Ranzan, associate professor, Archives and Special Collections.
Hoest described her own experience at Adelphi as "transforming, spirited and everything a college should be." She hopes that her collection will have an impact on current students.
"They'll learn something about social commentary and social criticism, as well as a fine art form," Hoest said. "They'll also learn about the responsibilities of doing business, of having publishing deadlines and never missing one, no matter what happens. I hope they learn all of the above in a fun way, because the cartoons are really fun."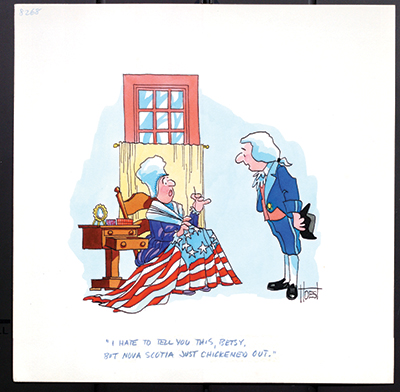 About Adelphi: A modern metropolitan university with a personalized approach to higher learning
Adelphi University, New York, is a highly awarded, nationally ranked, powerfully connected doctoral research university dedicated to transforming students' lives through small classes with world-class faculty, hands-on learning and innovative ways to support academic and career success. Adelphi offers exceptional liberal arts and sciences programs and professional training, with particular strength in our Core Four—Arts and Humanities, STEM and Social Sciences, the Business and Education Professions, and Health and Wellness.
Recognized as a Best College by U.S. News & World Report, Adelphi is Long Island's oldest private coeducational university. It serves almost 8,000 students at its beautiful main campus in Garden City, New York—just 23 miles from New York City's cultural and internship opportunities—and at dynamic learning hubs in Manhattan, the Hudson Valley and Suffolk County, as well as online. 
More than 116,000 Adelphi graduates have gained the skills to thrive professionally as active, engaged citizens, making their mark on the University, their communities and the world.