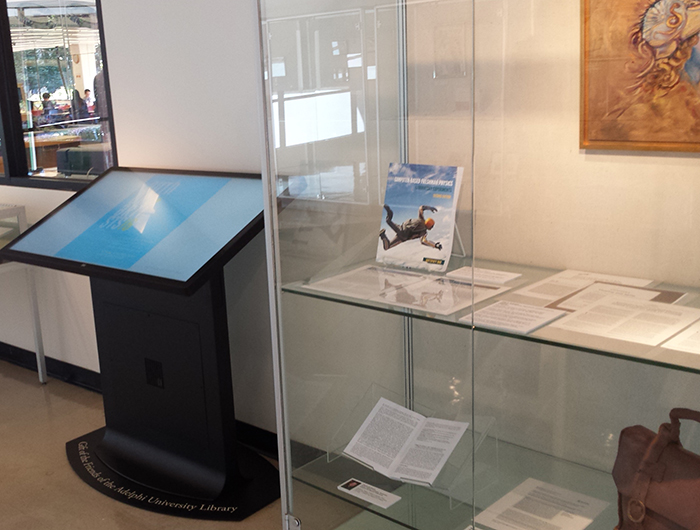 The Adelphi University Archives and Special Collections is home to thousands of feet of archival records and a substantial collection of rare books, manuscripts, pamphlets and other materials covering a wide variety of subjects. The items live underground in a purpose-built space in the basement of one of Adelphi's residence halls—New Hall A—where they can be perused on site. Thanks to a generous gift from the Friends of the Adelphi University Library—a longstanding organization that is associated with the University Libraries—the materials are about to become even more accessible.
The organization has donated the funds for the purchase of two digital display tables that will allow many more people to interact with digitized versions of the treasures—maps, rare books, manuscripts, and memorabilia—housed in Archives and Special Collections.
David Ranzan, associate professor and University archivist and special collections librarian, conceived the purchase and approached the Friends of the Adelphi Library about supporting it.
Brian McDonald, Ph.D., assistant University archivist and special collections librarian, likened the tables to iPads. "You can imagine having something like a digitized version of a book on display and be able to flip pages, make them larger or smaller, while also having on display the actual, physical book."
Dr. McDonald explained that the new tables, which will actually be tilted like drafting boards, will allow for richer, more varied exhibitions. He and his fellow curators will be able to augment the items with more information than they can display on the label for a physical item, and they can include maps or documents that are too fragile for physical display. "If you think of it, we can actually design exhibitions like we would design a website—all the functionality of a website we can now use in a public area for exhibition," he said.
The tables are part of a larger initiative to create a digital exhibition space in the relatively high-traffic Swirbul lobby. "It's our intention to make our exhibitions more interactive, more comprehensive, more text and visually rich," Dr. McDonald said.
The digital display tables are among a number of digital initiatives that Ranzan and his colleagues have planned for the archives and special collections. "We are immensely grateful to the Friends of the Library for their generous support of our digital efforts and look forward to continued collaboration on new projects that will enhance the library and benefit the entire Adelphi community," Ranzan said. 
---
For more information, please contact:
Adelphi University Library
University Archives and Special Collections 
Adelphi University 
P.O. Box 701 
Garden City, NY 11530-0701 
p – 516.877.3588
e – uasc@adelphi.edu